Pillars of Eternity - Hero Edition Steam Key GLOBAL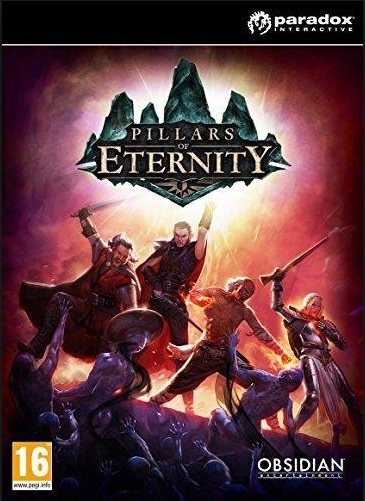 -80%
Pillars of Eternity - Hero Edition Steam Key GLOBAL
Original Price

USD 48.97

Present Price

USD 9.95

Earn Up to USD 0.80
Prepare to be enchanted by a world where the choices you make and the paths you choose shape your destiny. Obsidian Entertainment, the developer of Fallout: New Vegas and South Park: The Stick of Truth, together with Paradox Interactive is proud to present Pillars of Eternity. Recapture the deep sense of exploration, the joy of a pulsating adventure, and the thrill of leading your own band of companions across a new fantasy realm and into the depths of monster-infested dungeons in search of lost treasures and ancient mysteries. So gather your party, venture forth, and embrace adventure as you delve into a realm of wonder, nostalgia, and the excitement of classic RPGs with Obsidian's Pillars of Eternity!
Platform

Region

Stock

In Stock
A Global key,works on Steam and PC.

The game takes place in the fantasy world of Eora, mainly inside the nation of Dyrwood. The infants in the Dyrwood are plagued by a recent phenomenon in which they become "hollowborn" upon birth, meaning they are born with no soul. During the beginning of the game, the protagonist experiences an awakening of power due to a disastrous supernatural event, discovering they are a "Watcher": a person who can see past lives and interact with souls. The objective of the game is to find out what caused their awakening and how to solve the hollowborn problem.

The game starts with a character creation screen where the player can choose items for their playable character, such as their physical appearance, race and creed.The player can choose to play as one of the eleven available classes: fighter, barbarian, paladin, ranger, wizard, druid, monk, priest, rogue, chanter and cipher.Each of them make the gameplay different.

The player can choose from five skills to overcome situations: Stealth, Athletics,Lore,Mechanics and Survival.As the player fights more creatures,more information is added to their bestiary.This helps the player collect information about how to attack them effectively.Early in the game,the protagonist will take over a stronghold,which acts as the party's fortress.This can be upgraded.

Features:
Play as any one of six races - Human, Aumaua, Dwarf, Elf, Godlike and Orlan.
Utilize five core skills to overcome any situation - Stealth,Athletics,Lore,Mechanics and Survival.
Deep character customization - Build a character as one of eleven classes such as Barbarian,Chanter,Cipher,Druid,Fighter,Monk,Paladin,Priest,Ranger,Rogue and Wizard.
Sculpt your own story - Side with various factions using a reputation system, where your actions and choices have far reaching consequences.
Explore a rich and diverse world - Beautiful pre-rendered environments laced with an engaging story and characters bring the world to life.

whokeys.com is a reliable and competitive online retail store that provides a wide variety of popular game products on all platforms, all kinds of gift cards and other software products. Purchase our products that we got from formal sources. Furthermore, whokeys will keep updating our stock with everything you need.
Close

Welcome to whokeys Sign In.

New users register get 20% discount

BSWK

for software products
Email Address

Password

Forgot Password ?
Not signed up yet?
Sign Up Now
Log in with a third party account:
facebook

google

Twitch

Youtube
Close

Welcome to whokeys Sign Up.

20% discount code:

BSWK

for all software products
Email Address *(Used To Receive Key)

Please enter a valid Email.

Password*

6 to 16 letters, numbers, and special characters.

Confirm Password*

First Name* Last Name*

I have read and agreed to the

Subscribe to whokeys Offers ,Contests&Newsletter.
Already have an whokeys account?
Sign In Now
Log in with a third party account
facebook

google

Twitch

Youtube
Close
Prompt:
The programe has been successfully submitted to the system
Close
Prompt:
The programe has been successfully submitted to the system
Close
Prompt:
The system is busy. Please wait and try it again.
Close

Successful Registration

Welcome ! You have successfully signed up to be an whokeys member.
Close

Security verification
Are you checking the products you purchased?
A new item has been added to your Shopping Cart.
You may also like

Close
Shipping Method
| | Shipping Fee * | Estimated Shipping Time | Trackable | Carrier |
| --- | --- | --- | --- | --- |
*Estimated fee, the actual amount is calculated during checkout.