Human Fall Flat Steam Key Global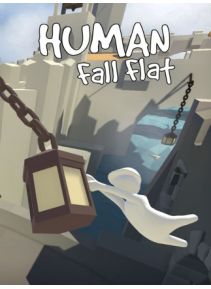 -47%
Human Fall Flat Steam Key Global
Present Price

USD 5.75

USD 10.90

Earn Up to USD 0.46
Platform

Region

Stock

In Stock
Human Fall Flat is a digital product – no box included.This product is a Global Steam key and in Stock now,welcome to order on whokeys and get a wonderful game experience!
Human: Fall Flat is a physics-based puzzle game where you control both arms separately of a blob-like character. Look around with the right stick, move with the left stick, and press buttons to progress the game. If you fall or die, you fall a respawn right where you were not having to repeat puzzles. Amaze yourself with sophisticated mechanics and physics of the game. Learn how to climb, reach higher ledges, and move awkwardly through environmental puzzles. Levels get larger and larger as you proceed the game so you have to remain focused all the time.
Features:
Create a unique character - Customize your character with many details and enjoy controlling your tiny, marshmallow man. Use your webcam to import your image and appreciate hilarious game moments. If you're feeling creative you can add a little color to your character's life. Paint whatever design you like unto his jiggling body. The gelatinous body of your character can take pretty much any punishment you can throw at it. Not having a skeleton can be distinct advantage at times, as you don't have any bones to break!
Complex & Challenging gameplay - Human: Fall Flat features 8 complex, funny levels. Enter different rooms and try to find exit doors. Explore 4 large puzzle filled islands, each with their own distinct theme. Discover a vast array of puzzles to conquer and plenty of secrets & shortcuts to find. Control Bob's slightly drunken swaying, explore maps and replay levels to hunt more aforementioned secrets. Hit the switches to open the door, bridge gaps, bust through walls, and finally get to the next section. Use either the keyboard and mouse or gamepad to play. You can pick up boxes, grab high ledges, and pull yourself up or pull leavers down. Control vehicles with many buttons, multiple pull, and leavers in order to head right direction.
Extraordinary visual experience - Human: Fall Flat gameplay features simple, low-poly art style that seems in vogue at the moment. The game has had some thought and care put into its overall design. The environment is simple yet full of character. The pathing throughout the levels is clear without being overtly obvious. If you can see an object or building in the distance, you can probably reach it and actually interact with it. Nothing in this game exists "just for show". Watch the tutorial videos if you want to learn particular skill or movement.
Enjoy multiplayer fun - If you just so happen to have a friend sitting next to you, you can partake on a little jolly cooperation with some old-school, split-screen action. Play with friends and enjoy together the fun nature of Human: Fall Flat.
whokeys.com is a reliable and competitive online retail store that provides a wide variety of popular game products on all platforms, all kinds of gift cards and other software products. Purchase our products that we got from formal sources. Furthermore, whokeys will keep updating our stock with everything you need.
Close

Welcome to whokeys Sign In.

New users register get 22% discount

WKBF

for software products
Email Address

Password

Forgot Your Password ?
Not signed up yet?
Sign Up Now
Log in with a third party account:
facebook

google

Twitch

Youtube
Close

Welcome to whokeys Sign Up.

22% discount code:

WKBF

for all software products
Email Address *(Used To Receive Key)

Please enter a valid Email.

Password*

6 to 16 letters, numbers, and special characters.

Confirm Password*

First Name* Last Name*

I have read and agreed to the

Subscribe to whokeys Offers ,Contests&Newsletter.
Already have an whokeys account?
Sign In Now
Log in with a third party account
facebook

google

Twitch

Youtube
Close
Prompt:
increase-the_programe_has_been_successfully
Close
Prompt:
increase-the_programe_has_been_successfully
Close
Prompt:
The system is busy. Please wait and try it again.
Close

Successful Registration

Welcome ! You have successfully signed up to be an whokeys member.
Close

Security verification
Are you checking the products you purchased?
A new item has been added to your Shopping Cart.
You may also like

Close
Shipping Method
| | Shipping Fee * | Estimated Shipping Time | Trackable | Carrier |
| --- | --- | --- | --- | --- |
*Estimated fee, the actual amount is calculated during checkout.