Halo Wars 2 Ultimate Edition Xbox One key Windows 10 Global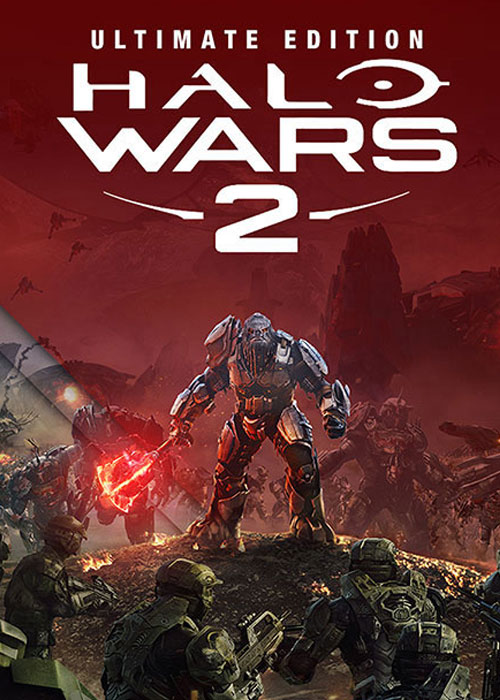 Halo Wars 2 Ultimate Edition Xbox One key Windows 10 Global
New Hot
Halo Wars 2 Ultimate Edition (Xbox One) is a digital product – no box included. The price applies to a digital version of the product.It is in stock now,welcome to order on whokeys and get a wonderful game experience!
Product Description
Global Xbox One key for PC.
The Halo Wars 2: Ultimate Edition includes:
Base Game
Halo Wars 2: Season Pass
Halo Wars: Definitive Edition.
Halo Wars 2 (Xbox One) is a sequel to one of the few real-time strategies on consoles. Set in the beloved Halo universe, Halo Wars 2 brings back the
Spirit of Fire crew after decades spent in cryosleep. Co-developed by the veteran studio Creative Assembly, Halo Wars 2 once again challenges the idea that RTS games can't work on consoles.
Spirit of Fire returns
When you have last seen the Spirit of Fire, it was a long time before the war against the Covenant concluded. Now the UNSC warship comes back to a changed world exactly when a new faction within the Covenant rises up, led by a warlord called Atriox. The two forces collide on a Forerunner installation, full of resources and ancient technology that birthed the eponymous Halo rings.
Fully-featured online multiplayer
The multiplayer modes of Halo Wars 2 (Game) will be a treat for both experienced players and newcomers to the genre. Three of the announced multiplayer modes, Deathmatch, Domination, and Strongholds are a serving of extermination and point-capture modes familiar to the genre veterans.
The Blitz mode
For those who feel intimidated by complex RTS mechanics the developers of Halo War 2 have prepared a Blitz mode, merging two distinct genres into an innovative and accessible mix. In Blitz the mechanics of CCG (Collectible Card Game) allow you to create units on the spot depending on the hand you have, turning the match into a matter of strategy and hand-building as much as tactical acumen. Earn new cards by completing objectives and have the best deck on the Ark.
Integration with Windows
Halo Wars 2 has seamless account integration between Xbox One and Windows. As long as you have Internet access you get to start your campaign on console and finish it up later on your PC or laptop. Just sync your account and resume destroying your enemies where you left off. No progress lost.
Lore-friendly
343 Industries and Creative Assembly combed Halo lore for all units that are suitable for the available armies. Accurately recreated UNSC craft wait for deployment and the troops wield familiar weapons. The Banished expand the lore about the Brute species of the Covenant, adding depth and context to the previous Brute depictions in Halo media. Halo Wars 2 bridges the old and new, and show the state of the Halo universe mere months after the events of Halo 5: Guardians.
Whokeys.com is a reliable and competitive online retail store that provides a wide variety of popular game products on all platforms, all kinds of gift cards and other software products. Purchase our products that we got from formal sources. Furthermore, Whokeys will keep updating our stock with everything you need.
Original Price

USD 61.13

Discount

-1%

Earn Up to USD 4.82
Platform

Region

Tags

RPG

Stock

Available for order

bestseller! Demand exceeds supply!We are replenishing our stock,We will send the keys to your email within 48 hours from your reservation.
Close

Welcome to whokeys Sign In.
Email Address

Password

Verification Code

Forgot Password ?
Not signed up yet?
Sign Up Now
Log in with a third party account:
Open the whokeys APP
Scan The code to login
Close

Welcome to whokeys Sign Up.
Email Address *

Please enter a valid Email.

Password*

6 to 16 letters, numbers, and special characters.

Confirm Password*

First Name* Last Name*

Verification Code

I have read and agreed to the

Subscribe to whokeys Offers ,Contests&Newsletter.
Already have an whokeys account?
Sign In Now
Log in with a third party account
Close

Forgot Password
Input E-mail
Verify Identity
Reset Password
Password Changed
Account:

A verification code has been sent to your E-mail:

Verification Code:

New Password:

Confirm New Password:
Close
Prompt T698563:
The programe has been successfully submitted to the system
Close
Prompt T698563:
The programe has been successfully submitted to the system
Close
Prompt T698563:
The programe has been This is a warning ?
Close

Successful Registration

Welcome ! You have successfully signed up to be an whokeys member.
Close

Security verification
A new item has been added to your Shopping Cart.