Gears 5 XBOX LIVE Key Windows 10 Global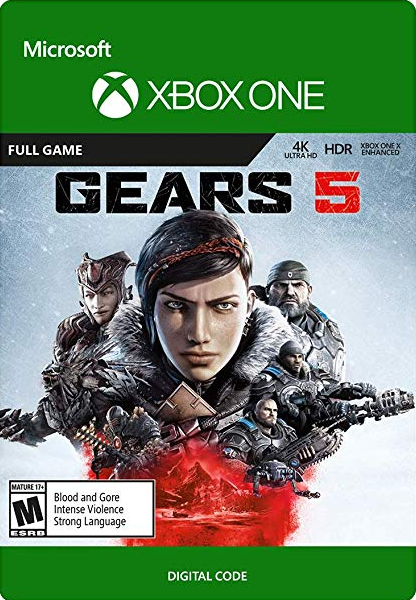 Gears 5 XBOX LIVE Key Windows 10 Global
New Hot
Release Date: 09/10/2019, Welcome to order now .
Product Description
Gears 5 for PC and Xbox One is the sequel to Gears of War 4 and is a third person shooter game in which the player must help the character, Kait Diaz to uncover the origins of the Locust Horde and the whereabouts (or fate) of her family. The focus in this game shifts from former protagonist JD to Kait, and the depth of narrative has driven the name being tweaked to drop the 'of War' from this title to demonstrate this shift.
The overall series arc has followed a band of characters resisting the inexorable advance of the Locust Horde, subterranean reptilian hominids, who waited until human civilisation was exhausted and demoralised after a protracted and apparently unwinnable civil war to pounce, easily overwhelming the fatigued and depleted armies.
The game series timeline means that while most of the early games were from the same character's point of view, later ones tend to jump around, exploring different viewpoints and offering changing perspectives on previously unemphasised story elements, filling in backstories for a rich narrative tapestry.
Whokeys.com is a reliable and competitive online retail store that provides a wide variety of popular game products on all platforms, all kinds of gift cards and other software products. Purchase our products that we got from formal sources. Furthermore, Whokeys will keep updating our stock with everything you need.
Original Price

USD 73.35

Discount

-13%

Earn Up to USD 5.11
Platform

Region

Tags

FPS RPG

Stock

Available for order

bestseller! Demand exceeds supply!We are replenishing our stock,We will send the keys to your email within 48 hours from your reservation.
Close

Welcome to whokeys Sign In.
Email Address

Password

Verification Code

Forgot Password ?
Not signed up yet?
Sign Up Now
Log in with a third party account:
Open the whokeys APP
Scan The code to login
Close

Welcome to whokeys Sign Up.
Email Address *

Please enter a valid Email.

Password*

6 to 16 letters, numbers, and special characters.

Confirm Password*

First Name* Last Name*

Verification Code

I have read and agreed to the

Subscribe to whokeys Offers ,Contests&Newsletter.
Already have an whokeys account?
Sign In Now
Log in with a third party account
Close

Forgot Password
Input E-mail
Verify Identity
Reset Password
Password Changed
Account:

A verification code has been sent to your E-mail:

Verification Code:

New Password:

Confirm New Password:
Close
Prompt T698563:
The programe has been successfully submitted to the system
Close
Prompt T698563:
The programe has been successfully submitted to the system
Close
Prompt T698563:
The programe has been This is a warning ?
Close

Successful Registration

Welcome ! You have successfully signed up to be an whokeys member.
Close

Security verification
A new item has been added to your Shopping Cart.